HOW DID YOU MEET YOUR PARTNER?
My partner and I originally met in high school. We were friends but nothing serious! After school we both went off to start our lives and reconnected in our mid 20's when the time was just right! We have been together ever since.
HOW DID THE PROPOSAL GO DOWN?
I planned an autumn weekend away to Redhill post COVID. We were staying at a small cottage that organised a bonfire, cheese and wine overlooking the vineyards on arrival.
We took up that offer after an evening dinner. It was a perfect moment! and my partner clearly thought so too and got down on one knee. I had no idea – not a clue but a
moment I will remember forever.
WHAT WAS YOUR WEDDING STYLE AND INSPIRATION BEHIND IT?
Our wedding was a modern wedding with simple romantic touches. We are both very relaxed people who loved good food and wine. We had our ceremony and reception all in one spot at Longsong in the CBD. The space was beautiful for a central autumn wedding.
WHAT WAS YOUR FAVOURITE MOMENT FROM YOUR WEDDING?
The first look together was really special. I highly recommend it to couples who want that moment together before everything begins! Also the ceremony, having that moment together with our family and friends.
WHAT WAS YOUR WEDDING SOUNDTRACK?
90's, dance and all the good wedding songs!
HOW WAS YOUR EXPERIENCE WEDDING DRESS SHOPPING?
From the moment I looked on the Love You More Bridal website and Instagram, a few
dresses really caught my eye. More than any other dresses I had looked at. The free appointment with Kim instantly sealed it and I booked in.
The boutique is such an inviting space. It is just you; your guests and Kim and you truly feel so special trying on all the beautiful dresses.
HOW DID YOU KNOW YOUR GOWN WAS THE ONE?
When I tried on the Love You More dress, I instantly knew it was right. The sample dress fit so well, and Kim showed me where minor adjustments could be made. It was exactly
the dress I was after – beautiful, simple, and timeless. You know when you go away and compare all dresses to the one you tired on. On a second try on appointment I ordered
my dress. I also loved Love You More was a Melbourne based and made bridal boutique.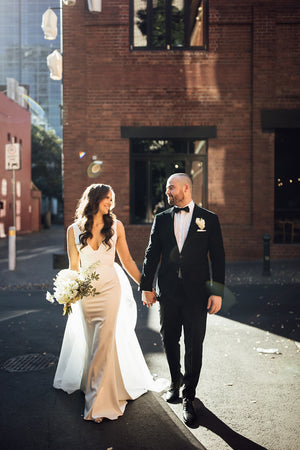 WHAT ARE YOUR WORDS OF WISDOM FOR OTHER BRIDES?
I found the wedding planning process overwhelming on multiple occasions. It can be hard keeping a clear vision with all the talented vendors, beautiful venues, and Instagram inspo out there. Watch out for the change in you Instagram algorithm!
Make sure to leave yourself enough time to take a step back from the planning when you need, so when you are in wedding planning mode you can fully enjoy the processes with your partner.
VENUE: Longsong
PHOTOGRAPHER: Liz Barnes Photo
FLORIST: Saltflower
STAIONARY: Emma Marie Creative
TANNING SALON: Studio28tanning