HOW WAS YOUR EXPERIENCE WEDDING DRESS SHOPPING?

Surprisingly it only took us one day! My maid of honour and I had started our day on high street looking at bridal stores that we had researched online (as you do) I didn't like anything on my body and was getting very anxious that I wouldn't find a dress that day. I then tried one more bridal store (Love You More Bridal) and I was in owe as soon as I walked through that door and was greeted by the biggest smile from Kim. I hadn't even tried on any dresses yet but she calmed my nerves and anxiety and I had a good feeling this was going to be where I found my wedding dress. 
HOW DID YOU KNOW YOUR GOWN WAS THE ONE?
I felt beautiful and confident in it, the little details were just me. If I was a dress this is what I would look like. I received so many compliments and was told time and time again 'this dress is so you'. 
WHAT WAS YOUR WEDDING STYLE AND INSPIRATION BEHIND IT?
I was very into dried arrangements and the Boho look, but I wanted more of a modern twist as my husband likes the simplicity and clean look. So we came up with the idea to have 'Boho Lux' which was a perfect mix of him and I. 
HOW DID YOU MEET?
I met Giacomo on my first week at work and we instantly clicked. His dad jokes and his goofy laugh had me hooked. 
HOW DID THE PROPOSAL GO DOWN?
Giacomo booked a holiday to Hamilton island as a gift to himself after a surprise 30th I had organised for him (so I thought). We stayed at a beautiful resort and had planned to go out to a gorgeous restaurant that night. As we were getting ready in our room, Giac suggested we take some cute photos of us before we headed out. Giac had positioned me in front of the balcony and set the camera on timer to get us both in the photo. Little did I know he was actually recording and started what was the most beautiful introduction into the next stage of our lives together. 
WHAT WAS YOUR WEDDING SOUNDTRACK?

We had a mixture of new and old. The wedding song I walked down the aisle to 'can't help falling in love' by Elvis Presley but in a modern acoustic version by another female artist.  Our first dance was to Jesse McCartney 'Beautiful Soul' I was obsessed with him and this song when I was a teen haha 
WHAT WAS YOUR FAVOURITE MOMENT FROM YOUR WEDDING?
It's so hard to pick one, I would say just bouncing off everyone's energy from the night and being on such a high from celebrating with the ones you love and creating memories going forward.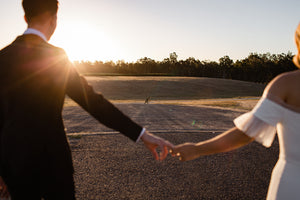 WHAT ARE YOUR WORDS OF WISDOM FOR OTHER BRIDES?
You only get to do this once and it goes so quickly, make the most of it and don't stress on the little things.
WEDDING VENDORS
PHOTOGRAPHER: Elk & Willow
VIDEOGRAPHER: ENA Films
VENUE: Mitchelton Winery
CELEBRANT: Kirby Steele
EVENT STYLIST: Lillians Design & Styling
FLORIST: Stasia Fox